For Mainstreaming Blockchain, DeFi Leads the Way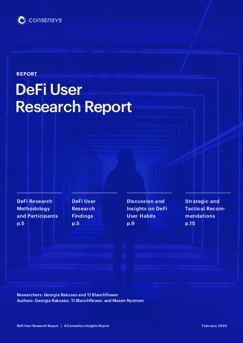 A recent report commissioned by ConsenSys Codefi examines user habits with regard to cryptocurrencies and decentralized finance (DeFi). The report's findings dispel myths around user habits and motivations, such as:
Most people are not solely motivated by speculation and potential profit, but are more often interested in the underlying technology and how it can be applied for practical means.
Most people had a long-term optimism for crypto.
Many of the pain points people experience revolve around information overload and staying on top of changing rates and fees.
People expressed a desire to remain as first movers of emergent technology and ecosystem.
Download the research report to learn more about today's DeFi user habits, and what we think this holds for the future of the industry.